Benefits For Southwest Florida Boat Owners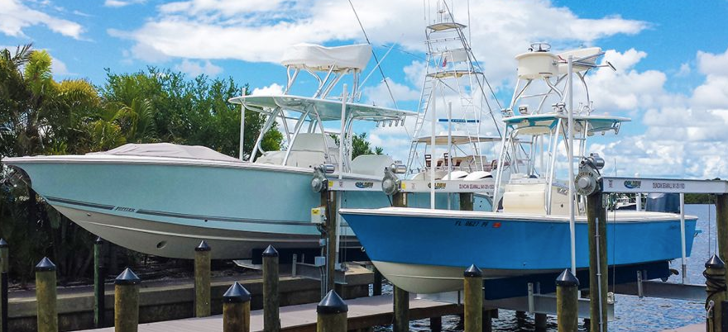 Why Do I Need a Boat Lift?
Experienced boat owners know that a boat lift provides the best protection against the hazards of wet storage. A boat lift keeps your hull clear of the waterline to significantly reduce costly wear and tear caused by hull blisters, not to mention costly damage to outdrives, props, and shafts. A clean hull bottom is preserved by lifting the boat clear of potentially damaging wave action and marine organisms. In this way, a boat lift quickly pays for itself.
The cleaner hull enhances speed and performance and saves you money with better fuel-efficiency. Even with the best bottom paint, the hull bottom requires regular cleaning, and the boat lift can reduce the time you spend scrubbing away the hull growth and debris which piles up with wet storage. You'll spend more time enjoying your boat on deck, rather than laboring tediously below the hull, and bottom paint coats will last longer as well.
Customized Boat Lifts For Boats of All Types
Southwest Florida boat owners have been relying on Duncan Seawall to provide the quality boat lifts to protect any type of boat from powerboats, pontoon vessels, and jet boats, to sailboats and yachts. We proudly offer a wide range of boat lifts from Golden Boat Lifts, the industry-leading boat lift brand since 1997. We provide customized installation services, combined with the quality and craftsmanship of the Golden Boat Lift line to ensure that your lift will last longer and optimize the convenience and protection the best boat lifts can provide.
Let's take a look at why we chose the Golden Boat Lift line for our loyal customers who have been relying on Duncan Seawall for quality and excellent craftsmanship for all of their marine construction needs since 1979.
Golden Boat Lifts at Duncan Seawall
We've already mentioned the complete customization we provide with installation for all types of boats with the wide variety of boat lifts to select from with the Golden Boat Lift lineup. But there is more to meeting our rigorous standard of quality which comes into play with the Golden Boat Lift brand including:
Excellent Materials - Golden lifts are constructed entirely with the most durable marine grade 606-T6 aluminum. The lift cables are ready to endure extreme temperatures and resist corrosion, all featuring pure 300 Series stainless steel construction. Stainless steel and aluminum construction eliminate rust concerns. Solid aluminum extruded bearings with grease fittings are welded inside the top beam for superior strength and convenient maintenance.


Welded Construction - Nuts and bolts used in some boatlift assemblies are subject to loosening and corrosion after exposure to the elements, significantly reducing lift reliability while increasing the need for ongoing lift maintenance. Golden Lifts all use welded construction extensively for all non-adjustable components throughout the lift structure. Fully welded construction ensures reliability, making the Golden Lift brand the frequent choice for law enforcement.


Lift Type Selection - The Golden line offers boat owners their choice of elevator boat lift, four post boat lift, or eight post boat lift, and our expert marine contractors can help you select the best Golden lift to fit your boat's needs.


Golden Sea Drive

:

A Superior Drive System - The Golden Sea Drive is the innovation that sets the Golden line above its competitors in the boat lift sector. The unique enclosed gear design incorporates the gearbox directly on the drive shaft to consistently deliver an astounding 8,000-inch pounds of torque, more than double the lifting power of its competitors. That extra available torque means that your boat can be raised safely and much more quickly than with a lift from the average competitor.


Golden Boat Lift Warranty
The Golden Boat Lift ironclad manufacturer's warranties provide comprehensive coverage for both the lift structure up to 25 years and the aluminum bearings with a separate 15-year warranty. $1,000,000 product liability coverage protects your investment in the unlikely event of failure.


Different Types of Golden Boat Lifts

4 Post Boat Lifts
Traditional shafted beam lift construction with 4 pilings is an economical choice for boats in the 5,000 to 28,000-pound range, and higher lifting capacity sizes are available on request. Golden 4-post Boat Lifts come with the recommended Golden Sea Drive gearboxes, or they can be purchased with the more economical Flat Plate drive.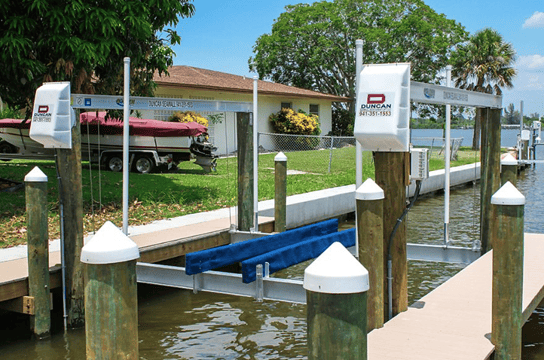 8-Post Boat Lifts
The Golden 8-Post Boat Lift features 8 pilings and 4 motors for lifting capacity in the 32,000 to 240,000-pound range. All 8-post lifts will have direct drive gear reducers, while 32,000, 40,000, and 56,000-pound lifts use the exclusive Golden Sea Drive system.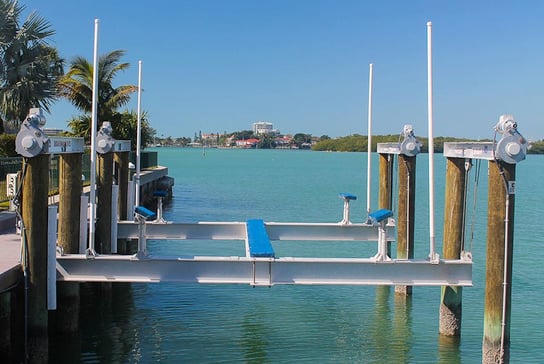 Golden Elevator Lifts
The Golden Elevator Lift is the solution when conditions such as rock walls or seawalls, narrow canals, or local permit regulations prohibit the use of pilings for your boat lift. Elevator lifts are available for the 3,000 to 40,000-pound range with larger capacities available on request. The degree of incline is determined by individual installation conditions. Golden Elevator lifts all feature carpeted bunk boards, heavy-duty wheels, extensive stainless steel construction, and oversized groove cable winders for extended cable life.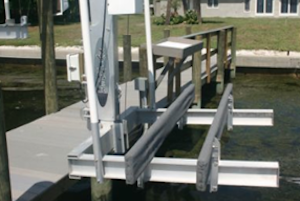 Golden's Patented Gatorvator Boat Lift
The innovative patented Gatorvator design eliminates the top beam structure while using just 2 drive spools which are grooved for the longest cable life possible. The cables never wrap over each other on the spools and lifting the boat is 33% faster. The Gatorvator lifts have less cable than all other lifts and no underwater electric lines are requir
ed. The Gatorvator fits most piling configurations making it adaptable to boathouses and existing 3 or 4 piling configurations. Without any unsightly top beam, the Gatorvator has a clean look, and maintenance and boarding are much easier.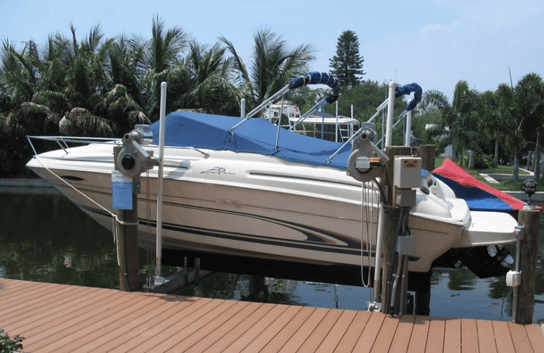 We've highlighted just a few of the outstanding types of lifts available from Golden Boat Lift. Details for floating dock lifts, deck lifts, and more boat lift and dock solutions are available at the Golden Boat Lift website at the link above.
Golden Boat Lift Installation
When you combine Golden Boat Lifts with their number 1 installer, Duncan Seawall, you can rest assured that the result will be unsurpassed customer satisfaction. We've been named the #1 Golden Boat Lift dealer not just in the state of Florida but worldwide. We've sold and installed more Golden Boat Lifts than any other marine construction company.
Using Your Boat Lift

When raising your boat on the lift Duncan Seawall recommends that you align the transom of the boat with the back edge of the lateral bunks on the boat lift. We also recommend using an auto-stop that will automatically stop the lift beams from bottoming out which can cause unspooling of the cables. For shallow water lifting, we can provide shallow water cradle beams and adjustable bunks. Dredging may have to be performed in certain shallow water situations.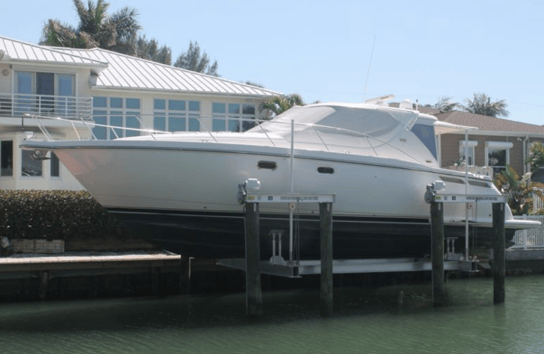 When the lift is not in use keep the bottom beams out of the water and above the high tide line to prevent corrosive action on working parts.


Check the cables frequently for fraying. Any frayed wires sticking out indicate that the cable must be replaced.


Check the sheaves. The sheaves must function smoothly without sticking with the boat balanced in the cradle and weight distributed evenly to the cables and sheaves. Inspection of the groove where the cable moves within the sheave should show it to be even all the way around. If wear is uneven, possible corrosion is indicated and the sheave should be replaced.


Check the drive pipe which winds and unwinds the cable and keep drive pipe shaft components well lubricated with bearing grease to keep them operating properly.


Check the power source and be sure it is disconnected before inspecting or performing maintenance on cables, pulleys. or other lift components. The experts at Duncan Seawall are also available to help you maintain your boat lift after installation.
Top Beam Covers- These covers are made to fit the specific lift and can be configured so the top beam can be used as an access platform in low profile installations


Remote Controls- Raise and lower your boat with the press of a button with auto-stop and standard remote controls.


Stern Platforms- The ideal solution for access to motors and outdrives provides 16' of working area.


Walkway- Provides easy access to your boat once it is lifted.


Stairs and Handrails- Available for attachment to the walkway in sets of 2,3, or 4 steps with 8" rise. Larger sizes and custom handrails are available on request.


Floating Hinged Access Platform- The hinge allows the platform to move with the varying water level to avoid getting stranded by tide changes.


Why Choose Duncan Seawall?
Unlike some other Florida marine contractors our men don't work for 4 hours before being called away from your project to work on some other "priority job." Our electricians are licensed for work above water, and our experienced teams ensure that your Golden Boat Lift installation is seamless and smooth, leaving you with a user-friendly, low maintenance quality lift you can rely on for years to come.
We are a full-service marine construction firm offering a complete line of waterfront structures and dredging services throughout Sarasota, Manatee, Charlotte, Pinellas, and other surrounding counties. Our commitment to quality workmanship and unsurpassed customer service has always been the key to our success so don't hesitate to contact us for all of your residential or commercial marine construction projects.